How to Market using Social Media for Different Generations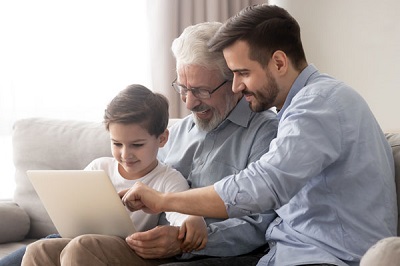 Social Media is equally popular with all age-groups and generations of users. According to Pew Research, while social media adoption was just 5% of the population in 2005, it had risen to 50% in 2011 and 72% by 2018.
However, it's interesting to note that social media behaviour varies across the different generation of users. How Baby Boomers perceive Social media is different from that of Generation X or Millennials. Understanding this difference is important for marketing personnel to ensure the right approach is adopted for the right generation. Right from content of the message to the frequency in which its delivered to follow-up mechanisms, the Marketing strategy should be cognizant of these differences.
Marketing for Baby Boomers (born between 1944 and 1964)
The generation that witnessed the birth of computers is often dismissed by most people as 'retired' or 'old economy' folks. Surprisingly, this generation is very active on Social Media. The generation that has been used to face-to-face interactions is delighted with the ease of connecting with friends and family, online. That is why Facebook is the single most popular channel for this generation.
Although this generation has produced legendary copywriters and landmark advertising, they still prefer messages that are simple and straightforward. Hints and teasing are not for them. They are also cautious and do not click on any links or ads unless they have heard their friends do so. If you want more conversions from this generation, keep the message and call to action simple.
Read also: Digital Marketing Trends for 2020
Marketing for Generation X (born between 1965 and 1979)
The Generation that witnessed the birth of the Internet has built virtually everything that is online today. Including social media! They are working folks, decision makers and business leaders, so their spending power is high. They are tech-savvy and being the crossover generation, they can understand both Baby Boomers and Millennials well.
From a Marketer's perspective, Gen X is thorough in their approach to every aspect of their lives including Social Media or Internet usage. This generation researches online reviews, believes in brand loyalty and appreciates good customer service. They read emails and participate in surveys. They are active on Facebook, LinkedIn, WhatsApp and Twitter and less on the other channels. They also like a little creativity in the messages.
This makes it easy for Marketers to device a marketing campaign that factors these 4 channels and adds several follow-up components in the campaign. The call to action can be more intense and incentivized with discounts and offers.
Marketing for Millennials (born between 1980 and 1995)
The Generation that witnessed the birth of Social Media is naturally inclined to use it extensively. Being a tech-savvy and impatient generation, they use multiple modes and channels for quick communication. They help make content go viral by liking, following and sharing information that is useful to their generation.
Read also: The Importance of Customer Engagement in Social Media Management
However, marketing to this generation can be tricky. Millennials are more active on Instagram, Twitter and WhatsApp and less on Facebook. They are also open to spending time on the other channels. This generation likes brand that talk to them personally. Brands that engage them in a conversation directly on social media channels is popular with them. Marketers who like, comment, or share their posts and follow them are perceived positively. They are perceived as being responsive and as a brand that cares.
While they like a little creativity in their messages, they do not have the time or the patience for an intense call to action or follow-up procedures. So marketers must ensure quick and personalized interactions and ease of use at every step.
Stay tuned to the differences
Social media is a constantly evolving space but being aware of usage trends and habits can make a huge difference in how a brand is perceived here. Stay tuned to these differences and you can turn your brand into a winner.
Become a Member to post Articles
Back to Profile